Ulf Erik Hjalmar Nilsson
Born 1977 in Helsingborg, Sweden. Based in Berlin since 2012.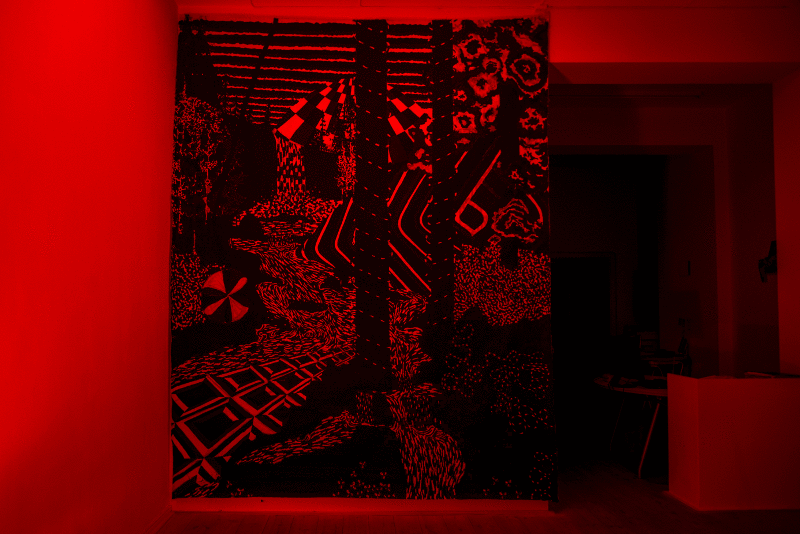 Installation view "Valley of the pantheon" Solo exhibition at Galleri C. Hjärne. Helsingborg, Sweden. 2014.
Action painting in the extended field / installation / animation. Acrylic on canvas & colored light.
I enter the gallery 5 minutes before the announced opening time, with a large roll of canvas on my shoulder and a bag full of tools. I start the performance by asking

the gallerist to borrow a ladder. Dressed in a clown nose I start my lamps. The gallery space is lit up with sequential changing colored light and I initially quote Paul

McCarthy from his 1995 video work Painter by grunting "Paint, Paint", referring to a similar situation in Painter; the myth of the artist character.


Talking to the audience, presenting myself and the work at the same time climbing the ladder, I'm murmuring and nailing up the 320 x 245 cm canvas on the wall,

in front of the large store-front window. I continue painting and talk about the motif I've already started on: a paraphrase on a 1860's photograph by Eadweard

Muybridge from his photo series Valley of the Yosemite. My collaborator Dj Joakim Cosmo is playing musical themes to accompany the animated picture and me as a

performer, finishing the painting.


The painting is an animated visualization of a mythical valley. A waterfall and river are showing natures wildness and calmness simultaneously. The

sphere in the horizon and the floor pattern under the forrest ground represent man-made constructions (borrowed from the Pantheon in Rome).

A spinning circle of colors resembles a childish toy, playfully showing the rhythm of the wind in the valley. The street and facades facing the gallery window are

completely lit up at night by the changing lights of the installation. This can be seen from a far distance in the city center. Every night through the window the

finished installation shows itself to an audience of by-passers, from the gallery's closing time until the morning comes.
Last update May 2021